++++ 20.04.2021 - News CORONA-Pandemic ++++
Denmark wants to relax its current entry restrictions in 4 phases.
From 21.04.2021 other countries are to be divided into risk countries and non-risk countries on the basis of a risk assessment. Entry from a non-risk country should probably be possible with a valid reason.
It is expected that from 01.05.2021 vaccinated tourists from EU countries with low case rates will be allowed to enter the country.
It is expected that from 14.05.2021, vaccinated tourists from border areas will be able to enter Denmark without quarantine requirements, provided that case numbers there are low.
It is expected that from 26.06.2021 and after the introduction of a vaccination passport valid throughout the EU, entry will be possible for all tourists and thus also for all those wishing to marry. The vaccination passport must show that one has been tested negative or vaccinated or has already survived a Covid 19 infection.
And now for the good news:
Even if most of our couples still have to wait a little: With the introduction of the EU-wide vaccination passport, entry to Denmark will be possible again in the foreseeable future.
The Danish marriage certificate is valid for 4 months.
If you are unable to marry in Denmark during this period due to entry restrictions, a new free certificate will be issued by the Danish authorities upon request.
Due to the sharp rise in the number of infections, the Danish government has declared Germany a risk area. Tourist entries are no longer possible without an important reason. A wedding date is not recognized as an important reason. The Danish registry offices have already suspended all agreed wedding dates.
On the Danish Police website you will find further and up-to-date information on traveling to Denmark (in English)
The Foreign Office has also issued a travel warning for Denmark due to rising infection figures. Travelers returning from risk areas must undergo a 14-day quarantine. On the website of the Robert Koch Institute you will find information on the designation of international risk areas by the Federal Foreign Office, BMG and BMI.
Before you can even get married in Denmark, you have to apply for a certificate of marital status at the Danish Agency for Family Law by submitting your documents and a comprehensive application. The marriage certificate is valid for a maximum of 4 months after it is issued. If you are not able to get married in Denmark within this period due to the restrictions caused by the corona pandemic, the Danish authorities will issue a new free certificate upon request. You don't have to pay a new processing fee.
So use the time of travel restrictions to apply for a certificate of marital status in Denmark now. Because when the border is open again, we can quickly offer you free appointments again.
Let us advise you.
We are pleased that you are interested in getting married in Denmark.
You are in the right place if you
unable to present a birth certificate from your home country
want to get married quickly within a few days
want professional support on site at every turn
Prefer inexpensive and manageable pricing
Why get married in Denmark?
Getting married in Denmark is much easier than in Germany, as the Danish family law agency requires considerably fewer documents and a wedding date can be arranged more quickly. A marriage ceremony in Denmark is the solution, especially for binational couples, because you do not need a certificate of marital status or a birth certificate. If the authorities in your home country do not issue official certificates of marital status, you must inform the Danish state administration. Otherwise, all you need is an official certificate of marital status. Same-sex couples can also get married in Denmark. Nevertheless, the marriage is recognized without any problems in Germany and worldwide.
We bring you to your wedding in Denmark!
You do not need to worry about anything. We will pick you up in Hamburg, optionally also in Bremen, and bring you safely and cheaply to your hotel in Denmark. The next day we will accompany you to the registry office and bring you back to Germany after the wedding ceremony and champagne reception.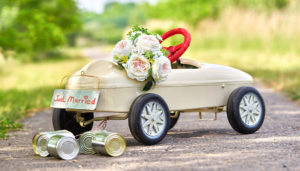 Official certificate of marital status is required.
Denmark is taking stronger action against marriages of convenience than before. From January 2019, new legal changes came into force that make it no longer as easy for foreigners to get married as previously in Denmark. There is a ban on marriages of convenience in Denmark.
The application for a certificate of marital status must be submitted to the state administration. This checks the application for marriage after sending the complete documents and paying the administrative fee. The fee is 1,650 Danish kroner (€ 225). The authority will review the application within 5 working days.
In addition, an official certificate of marital status must be attached. Proof is usually provided by the city office with an extended registration certificate. If the authorities in the country where you live cannot issue official certificates, this must be reported to the Danish authorities.
If a marriage of convenience is suspected, the state administration can invite you for a personal interview.
We would be happy to support you with the implementation of your marriage in Denmark.
Get in touch quickly. It's worth it for you.